ice-cream-showcase.com
Catalog online ice cream display
. Models, size, prices, sale conditions of ice cream showcases. Also ice cream displays, carts, chest freezers, cabinets and stock freezers. How to buy and order.

We will be happy to satisfy your needs even with something extra catalog, a special order, a shop design and more. You can just contact our staff at 021708640 for more information.Welcome in the catalog page. Navigation menu':
Click here for the ice cream page or go on reading about showcases.
Materials: all products of our ice cream showcases catalog are manufactured using insulation to conform the pollution directive and to contain cold dispersions. The skeleton structure is in solid iron anodized and all the basin and surface are realized with stainless steel. The glasses are tested and are appropriate for the huge difference in inside/outside temperature.
Ice cream display catalog and prices:
Please also ask quotations for other models, thank you. Call 021708640 or Miss Kitty 0938197664 or EMAIL info@ice-cream-showcase.com 1 year warranty on all our products.
---
A new possibility
for you to improve your sales target and consolidate your presence in the ice cream market by using an Italian designed showcase. It is not only about quality and style. These showcases are perfect for gelato as are designed from Italian engineers and it is an investment that can give you various advantage:
Quality of the product
Perfect visibility of gelato and ice cream
Having this kind of showcase will confirm you as a leader in the ice cream market and will automatically degrade your competitors. Just image to compare your ice cream parlor with this kind of showcase with another ice cream shop without it, the image is different! See it here:

The design and elegance can avoid the expenses for revamping the ambience. Think about an hall of hotel with this kind of showcases, it will look like a brand new designed hotel lobby! And you can also make a profit from it
Nice for your customers that will have the feeling to be special while staying and eating ice cream in your place
---
How to order and how to buy:
All the measures are approximate +- 3%. Images are true at time of publications but improvements always apply on new models so the delivery product can have minor differences. This catalog is not a contract. Prices are in Thai baht.
You can come in our offices in Bangkok, Pattaya, Phuket, Chiang Mai or contact our sales department (for address, email, telephone please visit the contact us page) or directly call 021708640.
Warranty: all showcases are sold with one year warranty and the Ice Age Co., Ltd. quality services.
Timing: some showcases are ready to delivery, others 30 days circa.
Delivery: the delivery is included in these Thai provinces: Bangkok, Chonburi, Samut Prakan, Nontaburi, Samut sakhon, Chachoengsao, Pratum Thani, Nakon Panhom, Ayutthaya. Other provinces can also be included or maybe we can ask for a contribute.
Note: VAT 7% is NOT included if not differently specified.
Attention: size and technical data can be changed without notice
Discount: all the above are discounted prices valid for the internet so fill the below form a s soon! As we also sell ice cream, combining an order with ice cream too can reward an extra small discount. For more information about ice cream click here.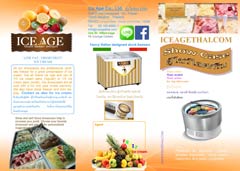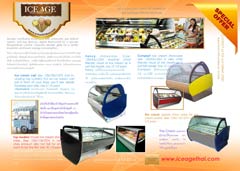 You can download the brochure or check the pdf file or easy for tablet and smartphone this file 1.1MB
Thank you for visiting my catalog by Kittiporn Nantanon info@ice-cream-showcase.com
---
Taxonomy: Business & Industrial > Advertising & Marketing > Trade Show Displays.
Business & Industrial > Retail > Retail Display Cases.
Or Showroom > Service Equipment > Store & Supermarket Supplies > Refrigeration Equipment > ice cream showcase.